Tohoku Steel is an integrated engineering manufacturer that offers everything related to special steel from material development and treatment to heat processing.
Tohoku Steel Co., Ltd. was born in 1937, based on a proposal by Dr. Kotaro Honda of Tohoku University, a global authority in physics and metallurgy research. Ever since our establishment, we have commercialized numerous new alloys and technologies including mass production of heat-resistant steel and development of the world's first corrosion-resistant, soft-magnetic stainless "K-M steel" through collaboration with and guidance from research institutions such as Tohoku University and its Institute for Materials Research. We have also contributed to the development of industries in Japan and overseas through our top markets shares (*) in heat-resistant steel for intake and exhaust engine valves in automobile-related components and soft-magnetic stainless steel electronic fuel injectors. (* Based on in-house research)
Tohoku Steel is committed toward earning the trust of our customers, and will pursue new possibilities of special steel through a variety of ongoing research and other challenges, to promote the evolution of manufacturing, development of our lifestyles, and for the future of the earth.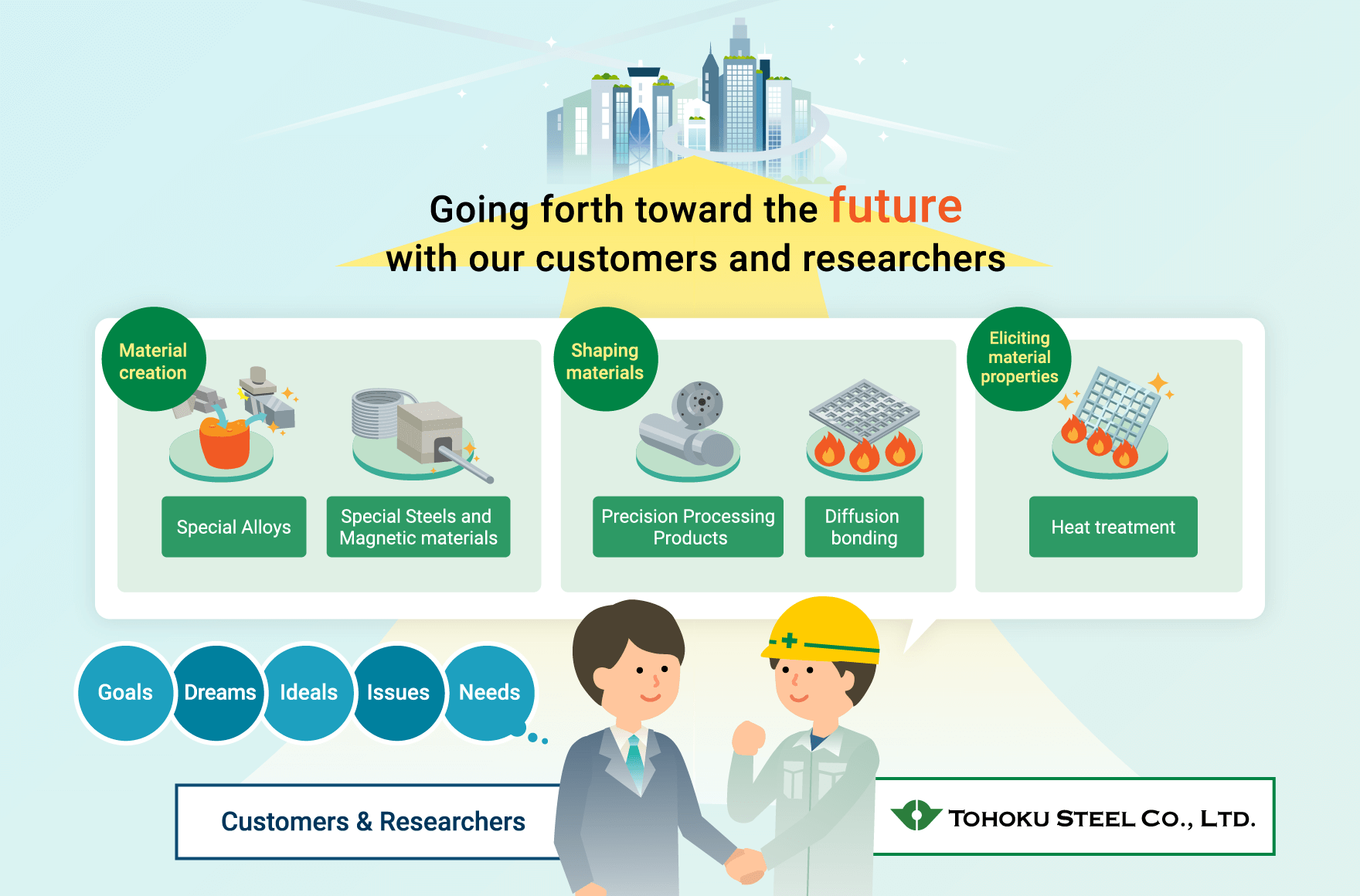 What we do at Tohoku Steel
Our strengths
Technical proposals

Technical proposals based on seasoned knowhow

We respond to customer needs with our knowhow that has been cultivated through material and technology development.
Allow us to offer proposals with added value, from material selection to optimal processing and heat treatment.

Quality

World-class, consistent quality, manufacturing and sales

We respond to customer needs with our many years of experience and inspection techniques that have been cultivated in the automobile industry.
Our nondestructive testing technology for steel bars is among the best in Japan, and we have also obtained ISO9001 for our quality standards, as well as IATF16949, which is the standard for the European and American automobile industry.

ISO9001/IATF 16949

Registration year
Scope of registration
ISO9001
Steel plant
1995
Design, development, manufacturing, and supplementary service of cold drawn bars, wires, square blocks, and blocks (heat-resistant steel, pure iron, ferrite stainless steel (soft-magnetic material), stainless steel, and alloys)
Heat treatment plant
2004
Heat treatment of metal products by commissioning
Precision machining plant
2005
Manufacturing of metal processed (cold/warm forged, machined, pressed, etc.) products
IATF16949
Steel plant
2006
Manufacturing of soft-magnetic stainless steel for automobiles (cold drawn bars and drawn wires) and heat-resistant steel for automobiles (cold drawn and drawn bars)

Research and
development
Industry-academia
collaborations

Pursuing new possibilities with industry-academia collaborations

In the spirit of our founding, Tohoku Steel conducts material research and development with industry-academia collaborations between research institutions, including the Institute for Materials Research at Tohoku University. We have established close partnerships with each research institution to commercialize various new alloys and technologies, and are pursuing new materials at the research and manufacturing stage.
The Tohoku Steel Group
Business
Principal Businesses
Group Affiliates

Special steel business

Manufacturing, processing, and distribution of various types of special steel
Purchasing and sales of special steel Entrusted processing of processed products Entrusted heat treatment processing Purchasing and sales of metallic materials

Totoku Industrial Co., Ltd.

TOHOKU Manufacturing (Thailand)Co.,Ltd.

TOHOKU STEEL INDIA PRIVATE LIMITED

Real estate business

Total building management operations Maintenance and security for buildings, factories, etc. Renting, buying, selling, and agency activities for real estate Parking lot management

Totoku Estate Service Co., Ltd.