Fe-Ni alloy is generally a soft, ductile material that is difficult to cut, and customer demand has called for free-cutting. However, since S-addition causes a great loss in hot workability, it used to be a difficult steel to make it free cutting.
Yet by adding TICS as a free-cutting element, free cutting has been realized.
Features
Using TICS to attain free-cutting has dramatically improved machinability.
Features such as the coefficient of thermal expansion remain unchanged.
[Form of cutting chips]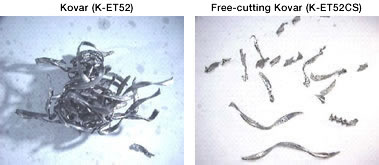 Description of materials
[Basic composition]
Free-cutting invar (K-EL70CS) 36Ni-Fe-TICS
Free-cutting super invar (K-EL50CS) 32Ni-5Co-Fe-TICS
Free-cutting kovar (K-ET52CS) 29Ni-17Co-Fe-TIC
Characteristics
[Physical property]
Steel name
Density
(g/cm3)
Coefficient of thermal expansion
(X10-6/℃)
Young's modulus
(X1010N/m2)
Modulus of rigidity
(X1010N/m2)
Poisson's ratio
K-EL70CS
8.12
1.4
1.5
14.3
5.55
0.29
K-EL50CS
8.14
0.6
0.8
14
5.47
0.28
K-ET52CS
8.2
5.48
5.27
13
4.82
0.35
Coefficient of thermal expansion: Upper α20-60℃, Lower α20-100℃
[Drilling test result]